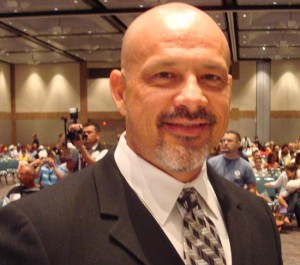 Lee Thompson Continues to Fight Steroid Charges in Overreaching Texas Steroid Bust
by Millard Baker
NPC Texas Chairman Lee Thompson continues to fight steroid conspiracy charges that were filed against him in an overreaching Texas steroid investigation that targeted dozens of individuals. Several individuals charged in the conspiracy have already pleaded guilty including Brock Falkenhagen. However, Lee Thompson is NOT one of them.
Thompson has repeatedly stated that he has no plans whatsoever to plead guilty; he plans to exhaust every and any legal means to vindicate himself against the charges filed by federal prosecutors in the United States Attorneys Office in Texas.
Prosecutors are undoubtedly dismayed by the sentencing handed down to defendants who have pleaded guilty thus far. United States District Judge Lynn Hughes has handed down sentences of "time served" and "probation" to co-defendants in a move that has surprised  prosecutors and defendants alike who were expecting imprisonment as part of their plea agreements.
The reasons for Judge Hughes light sentencing are not known; we suspect it might have to do with the petty nature of most of the cases and/or his dissatisfaction with the way the government has handled the prosecution. The federal conspiracy laws were never intended to be used in a moralistic witch-hunt against bodybuilders who use anabolic steroids. We look forward to Lee Thompson's legal battle as it exposes the government misuse and abuse of power in order to target steroid use in bodybuilding.
UPDATE: It has been  erroneously reported that Lee Thompson has pleaded guilty. Chris Downey, Lee Thompson's attorney, has sent cease and desist letter(s) to website(s) publishing libelous statements. The statements have been removed as a result.
TIME: 17:11 CDT

RE: Timothy Lee Thompson

Dear Sir:

Please be advised that I represent Timothy Lee Thompson in the matter styled:

Cause No 08-443 United State of America v. Timothy Lee Thompson

now pending in the United States District Court in the Southern District of Texas.

On your online "blog" posted at:

http://www.anthonyroberts.co.za/2010/02/lee-thompson-and-charles-brock-falkenhagen-plead-guilty-get-deals/ , you have published the following statements:

The following is the full docket for the Lee Thompson/ Brock Falkenhagen case, from beginning to present. Falkenhagen has entered a plea deal and is awaiting sentencing. He plead (sic) down from 46 charges to 4, and faces a maximum of 50 years in Federal prison.  Lee Thompson has pleaded guilty as well, although I do not yet have the details on his plea arrangement. (emphasis added)


Please be advised that the statement that Timothy Lee Thompson, a/k/a Lee Thompson has pleaded guilty is false. Mr. Thompson has NEVER entered a plea of guilty. A review of the docket will indicate that Mr. Thompson's matter was set for trial on February 9, 2010, then reset by the Court for a status conference later in the month. At no time has Mr. Thompson ever entered a plea of guilty, nor does he ever anticipate doing so.

Your website indicates that you have accessed the database that contains all of the information necessary to verify that Mr. Thompson has never pled guilty. However, you have elected to publish plainly false statements in spite of your apparent knowledge of its falsity. Your recklessness is nothing short of astounding.

Please be advised we consider your actions to be slanderous. We demand the immediate retraction of any and all published statements you have made indicating or implying that Mr. Thompson has pled guilty to any offense. We further demand you publish a notice of correction immediately acknowledging your significant error.

Sincerely,

CHRISTOPHER J. DOWNEY
ATTORNEY FOR TIMOTHY LEE THOMPSON
2814 HAMILTON STREET
HOUSTON, TEXAS 77004
Source: Mesomorphosis.com

Discuss this on bodybuilding forum

==================
We do not promote the use of anabolic steroids without a doctor's prescription. The information we share is for entertainment purposes only.
THIS IS NOT MEDICAL, LEGAL OR ANY OTHER TYPE OF ADVICE. SIDE EFFECTS ARE UNKNOWN SO THEREFORE DEATH AND SERIOUS BODILY INJURY MAY OCCUR. ONLY USE DRUGS, SUPPLEMENTS, OR EXERCISE UNDER YOUR DOCTORS DIRECTION.
==================
Post Footer automatically generated by Add Post Footer Plugin for wordpress.
Tweet