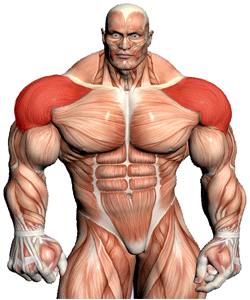 Large, well developed shoulders are aesthetically pleasing but also provide supporting strength for most upper body exercises. Below are three tips to build bigger shoulders while increasing overall strength.
Always Stretch And Warm Up Thoroughly
Many weight lifters struggle to develop impressive shoulder width because of recurring injuries. The shoulders are involved to varying degrees with most upper body movements, making them one of the most over worked muscle groups. Once the shoulder is injured, it limits your ability to work other muscles like the chest and back which can set your progress back several weeks.
Your warm-up routine should be done consistently, because you only have to skip one stretching routine to seriously damage your shoulders. When warming up the shoulders it's important not to reach muscle fatigue, because it will limit your strength during the main shoulder workout.
Build Power With Presses
As with most muscle groups, you can either try to build mass or focus on shaping existing muscle. If you're trying to build thickness in your shoulders, the best exercises will include heavy presses. A popular power building routine often includes seated shoulder presses done with a barbell or heavy dumbbells.
There are different philosophies for power lifting and bodybuilding, but there is no question the more you can lift the bigger your muscles will grow. Incorporating more power building exercises will pay dividends with other shaping exercises.
Isolate The Shoulder Heads With Laterals
The shoulder is comprised of three muscle heads adding thickness to the front, back and sides. There are very few exercises that work all three shoulder heads effectively requiring you to isolate the entire shoulder with different movements.
If you're trying to increase the width of your shoulders, standing dumbbell laterals can add shape and density if you lift heavy enough. To create a fully developed "boulder" shoulder you'll need to pay equal attention to all three sections of the shoulder muscle.
Copyright © Ashley Greene
Posted on November 1, 2009
Source: worldphysique.com

Discuss this on bodybuilding forum

==================
We do not promote the use of anabolic steroids without a doctor's prescription. The information we share is for entertainment purposes only.
THIS IS NOT MEDICAL, LEGAL OR ANY OTHER TYPE OF ADVICE. SIDE EFFECTS ARE UNKNOWN SO THEREFORE DEATH AND SERIOUS BODILY INJURY MAY OCCUR. ONLY USE DRUGS, SUPPLEMENTS, OR EXERCISE UNDER YOUR DOCTORS DIRECTION.
==================
Post Footer automatically generated by Add Post Footer Plugin for wordpress.
Tweet