Great way to Cut for that shredded look.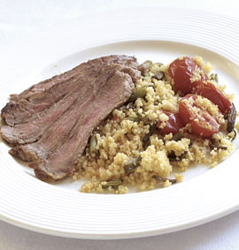 When dieting it becomes hard to maintain muscle and energy in the gym.  But a great way to help your body acheive that nice lean hard look, or just to loose weight is to eat clean white meats. 
A good example of a diet would be Fish/Chicken/Brown Rice/ Protein Shake and Oatmeal. You can make a great diet just out of these foods. 
Example of what the diet should look like threwout the day. 
Meal 1 – 8am 1 cup of Oatmeal.
Meal 2 – 11am Chicken boiled or grilled is perfectly fine with a cup of brown rice.
Meal 3 – 2pm  Protein Shake you will probley want to workout and then take in the protein shake.  You can change the meals up so you could have the protein shake at 5pm instead of 2pm.  Its your choice.
Meal 4 5pm – Haddock with 1/2 cup brown rice.
Meal 5 – More fish but only lean fish no lobster or anything like that.  Halibut or Haddock is perfect.
This clean diet would help you achive more then enough protein and just enough carbs that you would burn threw the day, after a week or 2 the weight will just fall off you but you will keep your muscle mass.
You should be working out 4 to 6 days a week.  And Resting.
Drinking atleast a gallon of water a day will help greatly, if you are taking a steroid go to www.hypermuscles.com to find out more about why.  You need to keep your liver and kidneys clean and water helps you do this.

Discuss this on bodybuilding forum

==================
We do not promote the use of anabolic steroids without a doctor's prescription. The information we share is for entertainment purposes only.
THIS IS NOT MEDICAL, LEGAL OR ANY OTHER TYPE OF ADVICE. SIDE EFFECTS ARE UNKNOWN SO THEREFORE DEATH AND SERIOUS BODILY INJURY MAY OCCUR. ONLY USE DRUGS, SUPPLEMENTS, OR EXERCISE UNDER YOUR DOCTORS DIRECTION.
==================
Post Footer automatically generated by Add Post Footer Plugin for wordpress.
Tweet