Oral Tren Results, and Cycle info inside.
11 April 2011
One Comment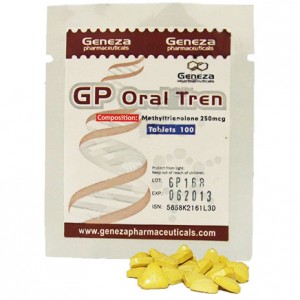 Oral Tren was newly Re Introduced threw Geneza Pharm also known as GP.  The steroid is highly anabolic, and the tren injectable is used widely in bodybuilding because it is so powerful.  Oral Tren info use has not been widely available on the net, users seem to fear the side effects associated with taking this oral.  
Oral Tren is Liver Toxic and probley one of the most Toxic steroids available.  But with side effects come the great effects it has on your muscle, as it does not aromatise and is highly anabolic but it is highly androgenic steroid aswell.   Oral tren will bring you very hard and sculpted muscle gain. 
If you are looking for cycles.   There is 2 oral cycles you could use.  Yes these will shut you down, meaning you testicals will shut down very hard so running Test P with it would be the best bet.  But lets start with Oral only.
Oral only  Cycle 1 : Oral Tren By Geneza Pharmaceuticals.
Week 1 – 3 (500mcg )   Post cycle Clomid for 8 days. And Nolva for 2 weeks.
Cycle 2
Week 1-3 (750mcg) Post cycle same as Cycle 1.  
Cycle 3
Week 1-3 (500mcg) Test P 6 weeks 75mg EOD.  Nolva 2 weeks for pct.
When running the cycles you will want to use a liver protectant.  Milk Thistle and or liv52 are great products and are highly recomended for EVERY cycle. You can find these products at www.gbnstore.net  or go to www.hypermuscles.com there are many sources that carry it here, find one that fits you.
On the net i searched for months and months and found very few users.  So i tryed to catch up with them.  I did get ahold of a few awile back.  I was searching because i wanted to use this product, and i ended up doing so aswell.  Before i get to my use, i would like to talk about what these members told me about there expeirience.   The users all reported Noticeable Muscle gains from the steroid in a weeks time of using it.  A week after taking the product at only 250mcg a day, 1 oral tab they grew.  2 of the men actually stated they did not follow any diet at all, and they lost fat and gained muscle mass all in a week.    Out of them small bunch, 3 of them reported trouble to sleep and on somedays very sluggish untill the would begin working out.   None reported acne, no temper, nothing else was reported.   Everyone had diffrent results but they all gained in the first week. 
My own personal use:  I have used oral tren 3 times.  3 cycles.  1 cycle i used the product for 3 weeks 250mcg everyday.  On this cycle i honestly gained very little no side effects from this cycle at all, not even testy problems.  The next cycle, i used 500mcg a day and this was my sweet spot. It brought me fast gains in a week and i was hooked, i new it was doing what i wanted and i busted my ass hard in the gym for the next 3 weeks.  I felt great, but side effects yes. Side effects were i had no pct, and yes i shut down for a week no sex for me, it would just not go up it was not fun i did not like it.   My Third cycle with it, 750mcg week 1 then 500mcg week 2 and 3.  This was great because by the time i got off the tren the results were huge, and the test E was just kicking in and by the end of the cycle i was beyound happy.   Here is the thing, Test never worked that great for me 500mg cycles for 12 weeks, it worked but the 12 weeks of Test was not as great as the 3 weeks of oral tren.  It was the best product i have ever used. 
When taking steroid Oral Tren be safe with it.  Do not abuse it.  Take some liver protection 3 weeks before starting the cycle, drinka  gallon or 2 of water a day, and cycle the product safely.  Run PCT.   This will help you feel better, and also bring you better gains.  You will be happy with where it takes you, and not worry about sides if you follow those simple steps.  If you dont drink a gallon of water a day, then you should not cycle, if you cant diet right and workout for it, dont cycle, if you cant protect yourself from side effects well then you are setting yourself up for a big big problem.   Just take the time and be safe.

Discuss this on bodybuilding forum

==================
We do not promote the use of anabolic steroids without a doctor's prescription. The information we share is for entertainment purposes only.
THIS IS NOT MEDICAL, LEGAL OR ANY OTHER TYPE OF ADVICE. SIDE EFFECTS ARE UNKNOWN SO THEREFORE DEATH AND SERIOUS BODILY INJURY MAY OCCUR. ONLY USE DRUGS, SUPPLEMENTS, OR EXERCISE UNDER YOUR DOCTORS DIRECTION.
==================
Post Footer automatically generated by Add Post Footer Plugin for wordpress.
Tweet