Advanced Anabolic steroid Cycle. PCT Included.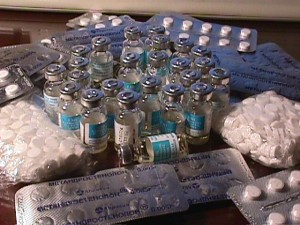 The cycle inside is only for advancd steroid users, and bodybuilders.  The doseages and and cycle lentgh is twice what a begginer would use, and the PCT is also alot stronger.  You should have atleast 6 to 8 cycles and atleast 25 years of age before even thinking of using a cycle this strong. 
Supplements, will include.  Sustanon, HGH, winstol and Equipose.   Cycle lentgh is 20 weeks including PCT.
Cycle.
HGH – Week 1-20  4 iu ED 6 on 1 off.
Sustanon- Week 1-12 250mg EOD.
Equipose – Week 1-12 500mg W
Winstroll – Week 9-15 50mg ED
Clomid PCT Week 16 – 19
PCT mg daily. Day 1 300mg  Day 2 – 28 100mg daily.

Discuss this on bodybuilding forum

==================
We do not promote the use of anabolic steroids without a doctor's prescription. The information we share is for entertainment purposes only.
THIS IS NOT MEDICAL, LEGAL OR ANY OTHER TYPE OF ADVICE. SIDE EFFECTS ARE UNKNOWN SO THEREFORE DEATH AND SERIOUS BODILY INJURY MAY OCCUR. ONLY USE DRUGS, SUPPLEMENTS, OR EXERCISE UNDER YOUR DOCTORS DIRECTION.
==================
Post Footer automatically generated by Add Post Footer Plugin for wordpress.
Tweet