GP Oral Tren
2 November 2010
No Comment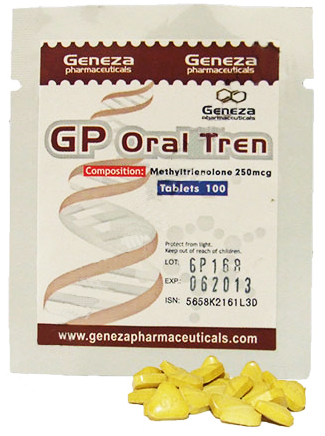 Methyltrienolone (MT) is a very potent, reasonably toxic, non-aromatizing steroid. Ok. Let´s go over those three points again. First of all, MT is potent. It binds so strongly to the AR (androgen receptor) that it is often used in studies on other androgens to measure how strongly they bind.
In other words, this stuff binds onto the AR receptor so strongly that it is pretty much the benchmark for that quality. If you´ve read my profile on Trenbolone Acetate (TA), you´ll note that I said TA is the most potent injectable weapon in our arsenal with regards to ability to bind to the Androgen receptor. That´s still true, because this particular compound is not in our arsenal, and it´s not injectable… it´s simply the oral version of TA (i.e. it is Trenbolone which has undergone modification to become orally active, via the addition of a 17-alph-methyl group). So why is it important that this stuff binds so tightly to the AR?
Well, Androgen Receptors are found in both fat cells as well as muscle cells; they act on the AR in muscle cells to promote growth, and in the fat cells to affect fat burning. The stronger the androgen binds to the A.R, the higher the lipolytic (fat burning) effect on adipose (fat)tissue. Unfortunately, that strong binding doesn´t also automatically mean that it will elicit the strongest possible anabolic response, nor that the weakest bind will elicit a weak anabolic response. Anadrol (oxymetholone) has the weakest bind to the AR possible (too low to be measured), and it produces a profound anabolic response, for example. Dianabol is simarly low, and produces a very good anabolic response.
AR´s are found in both muscle tissue as well as adipose tissue. When a muscle´s AR is stimulated, it can induce hypertrophy. When an adipose tissue´s AR is stimulated, through various related mechanisms, fat is lost. This is a gross oversimplification. Whatever. All we need to know is that when you have a steroid that binds to the AR, it builds muscle and burns fat. And a steroid that binds very tightly to the AR will stimulate a lot of muscle synthesis and burn a lot of fat. A good example of this is Trenbolone. And since I mentioned Trenbolone, its worth further mentioning that MT is basically a 17aa (oral) version of (injectable) Trenbolone.
AR binding and AR stimulation is not the only mechanism which stimulates anabolism, however. It is important to note that dbol has a very low AR binding ability and A50 has an AR binding ability which is too low to even measure! Both are very potent oral steroids, though. So while it´s important, AR binding/stimulation is not the end all & be all of anabolism, although it is an important part. Don´t be fooled by the anabolic/androgenic ratio of this (or any steroid), either. The anabolic/androgenic ratio of MT would suggest that it produces 120(+)x the anabolic and 60(+)x androgenic effect of Testosterone (which has a score of 100 and 100 respectively). If one were able to get a bottle of this stuff, I believe it would be best used as part of a cutting cycle, stacked with some injectables (testosterone, etc… ), but certainly no other orals.

Discuss this on bodybuilding forum

==================
We do not promote the use of anabolic steroids without a doctor's prescription. The information we share is for entertainment purposes only.
THIS IS NOT MEDICAL, LEGAL OR ANY OTHER TYPE OF ADVICE. SIDE EFFECTS ARE UNKNOWN SO THEREFORE DEATH AND SERIOUS BODILY INJURY MAY OCCUR. ONLY USE DRUGS, SUPPLEMENTS, OR EXERCISE UNDER YOUR DOCTORS DIRECTION.
==================
Post Footer automatically generated by Add Post Footer Plugin for wordpress.
Tweet