What can a cycle do for you. Week 1 End.
23 October 2011
One Comment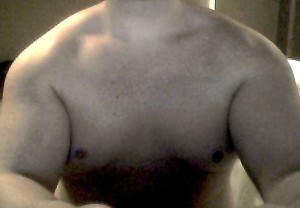 So just a update.  This is how they will be at the end of the week.    Following this week everytime i make this kind of post photos will be included at the end of the week for you to actually see the changes in my body.  You will also have pictures of me on the scale to see the actual numbers.  This is to make it proof positive.  I just will never show my face for obvious reasons. 
Weight 5 days after the first 3 injections.  There is no injection pain at all.  The first injection was sore after now i dont feel it at all, i inject before i go to bed so im sure my body heels it up. 
My weight in 5 days later i have lost 3lbs i was 240, i am now 237.   Im sure the Tren is droping the excess water out of me. 
Side Effects.   I have trouble sleeping every night.  Im also very out of it during the day, the only way to describe it is if i sit down, im like a zombie just there and not aware of anything going on around me at all.  Even if i feel like i can pass out, i dont.   
I do not have any rage or any kind of bitch attitude even from being tired from not sleeping.  Im just the same funny me.  I get energy when i work out.   
My Appetite.  Its completly gone.  I dont even get hungry at all, i could go a whole day and not realize i have not had food.  The good thing about this, its makes following my diet very easy.  I do not mind eating a half cup rice with 7 oz of chicken, 6 times a day but i also switch it up with fish like haddock.  Or Hadock and sweet potato.     2 protein shakes a day. 
Positives, the results show up right away on samller body parts.  My forearms look pretty cool, i never had muscle like i do now showing on them, there are veins that are starting to show threw on these parts aswell.   But no real noticeable results, but its only 5 days in so im happy. 
Cardio i dont do it, but i dont think it would be to hard to do it. 
I would like to thank www.hypermuscles.com they have given me great support.

Discuss this on bodybuilding forum

==================
We do not promote the use of anabolic steroids without a doctor's prescription. The information we share is for entertainment purposes only.
THIS IS NOT MEDICAL, LEGAL OR ANY OTHER TYPE OF ADVICE. SIDE EFFECTS ARE UNKNOWN SO THEREFORE DEATH AND SERIOUS BODILY INJURY MAY OCCUR. ONLY USE DRUGS, SUPPLEMENTS, OR EXERCISE UNDER YOUR DOCTORS DIRECTION.
==================
Post Footer automatically generated by Add Post Footer Plugin for wordpress.
Tweet