IFBB Phoenix Pro: Top Men's Bodybuilders
5 February 2010
No Comment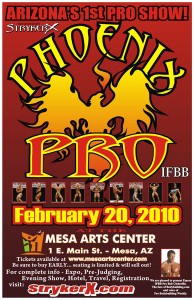 The first IFBB pro contests of the 2010 season are almost upon us, and in the Men's Bodybuilding contest, it is shaping up to be a good battle between some seasoned competitors. Whereas there are always surprises on who is going to be competing, the top 4 look like it is going to be Melvin Anthony, Troy Alves, Toney Freeman and Hidetada Yamagishi, not necessarily in that order.
Troy Alves is the hometown favorite, since he lives in Phoenix and owns his own supplement and training store there. Troy will definitely be ready for this contest, as he has learned from his mistakes from last years 11th placing at the Ironman, and moved up to win the IFBB Orlando Show of Champions, and place 3rd at the IFBB Atlantic City Pro. We won't talk about the 2009 Olympia though. Still, fans are predicting that Troy is going to take this show and prove to everyone he is the best to start the season.
Melvin Anthony also is training hard right now, staying with Dennis James, who is making sure Melvin will be ready for this contest. We just heard Melvin Anthony on Pro Bodybuilding Radio last Monday night discussing his preparation for the contest, and we know his posing routine (which won't count in the scoring this season) will be great. Can Melvin take this show and win it? Of course he can. While Troy beat Melvin at the IFBB Atlantic City Pro last year by one placing, it was Melvin that placed ahead of Troy at the 2009 IFBB Olympia.
Hidetada Yamagichi continues to improve his physique, and this year may be the time in which Hide will surpass the others. Hidetada placed second last year at both the IFBB Orlando Pro Show of Champions and the IFBB Atlantic City Pro, but also beat Melvin Anthony and Troy Alves at the IFBB Olympia, making it into the coveted top 10 rankings of the best bodybuilders in the world. No one should underestimate Hideatada at this contest.
Toney Freeman, based on rankings, is probably the best bodybuilders that will be on the stage in Phoenix, coming from an 8th place finish at the 2009 IFBB Olympia and a win at the 2009 IFBB Sacramento Pro. So why are people doubting that Toney is going to win this contest? They shouldn't, as Toney has proved time and time again that his physique and muscularity should dominate the contest. Toney is the favorite here, based on a myriad of fans responses.
There are others who can place and surprise everyone, including Johnnie Jackson and Quincy Taylor, both who can be really on, or just miss their conditioning. Others who plan on competing include DeShaun Grimez, Neil Hill, Mike Libertore, Mehmet Yildrim, Stan "The White Rhino" Efferding, Daniel Hill, Andy Haman, and Con Demetriou. An official list should be out soon.
Source: getbig.com

Discuss this on bodybuilding forum

==================
We do not promote the use of anabolic steroids without a doctor's prescription. The information we share is for entertainment purposes only.
THIS IS NOT MEDICAL, LEGAL OR ANY OTHER TYPE OF ADVICE. SIDE EFFECTS ARE UNKNOWN SO THEREFORE DEATH AND SERIOUS BODILY INJURY MAY OCCUR. ONLY USE DRUGS, SUPPLEMENTS, OR EXERCISE UNDER YOUR DOCTORS DIRECTION.
==================
Post Footer automatically generated by Add Post Footer Plugin for wordpress.
Tweet