Arnold Expo LowDown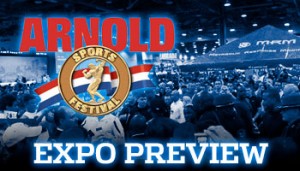 See what's happening at the 2010 Arnold Expo
February 27, 2010
By Shawn Perine
It's no secret by now that the Arnold Sports Festival is far more than just bodybuilding, figure and fitness competitions. For the past two decades the March classic has continually grown by leaps and bounds, each year adding more attractions to its expansive expo. The 2010 iteration promises to be the biggest and best expo yet.
It's hard to know where to begin when discussing the Arnold Expo — it's that expansive and diverse. To give a sense of the size of the Arnold Sports Festival, the Vancouver Olympics featured 5,500 athletes and officials — a record for a Winter Olympics Games. Not bad, but then when you consider that the Arnold plays host to 18,000 athletes competing in 44 events, Vancouver looks a little quaint. Yet for all of the athletic competition taking place between March 4th and 7th, for the 170,000 expo goers the real attraction is the 700 vendor booths, replete with bodybuilding, fitness and MMA stars, freebies and more salacious expo girls than you can shake a protein bar at. It's at the expo booths were the vast majority of meeting and greeting, sightseeing and autograph seeking is done. Have a business card? This is the place to pass it out.
We could go on and on, and on, about the strongman, powerlifting, weightlifting, MMA, wrestling, cheerleading, gymnastics, fencing, arm wrestling, table tennis… well, all of the events, but promoter Jim Lorimer and his team have already created the ultimate online resource for all your Arnold Expo needs. Go to http://www.arnoldsportsfestival.com/expo/ where you'll find a schedule of events and a floor plan so you can map out your booth surveying strategy in advance. Trust us, it's best to have a plan of action now because when you're actually there in the thick of it on Friday and Saturday your movements are, more often than not, the crowd's command.
WHAT: Arnold Sports Weekend
WHERE: Columbus Convention Center, Columbus Veterans Memorial Hall
WHEN: March 4th-7th, 2010
HOW: For tickets and info go to http://www.arnoldsportsfestival.com/expo/
Source: flexonline.com

Discuss this on bodybuilding forum

==================
We do not promote the use of anabolic steroids without a doctor's prescription. The information we share is for entertainment purposes only.
THIS IS NOT MEDICAL, LEGAL OR ANY OTHER TYPE OF ADVICE. SIDE EFFECTS ARE UNKNOWN SO THEREFORE DEATH AND SERIOUS BODILY INJURY MAY OCCUR. ONLY USE DRUGS, SUPPLEMENTS, OR EXERCISE UNDER YOUR DOCTORS DIRECTION.
==================
Post Footer automatically generated by Add Post Footer Plugin for wordpress.
Tweet