Participate in our Top Bodybuilding Sites Directory.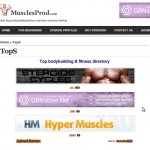 If you have a website and want to increase its rating and bring more members, then MusclesProd.Com invites you to join our BodyBuilding Web Sites Directory: http://www.musclesprod.com/top/
It's easy and totally free.
1. Upload your banner to MusclesProd.Com
2. Upload MP Voting banner to your site
3. Start getting votes
4. Get more visitors.
Good luck!

Discuss this on bodybuilding forum
Post Footer automatically generated by Add Post Footer Plugin for wordpress.
Tweet