Explode your quads
8 November 2012
2 Comments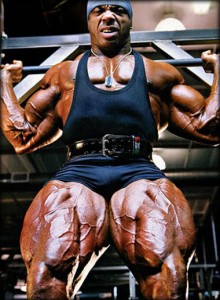 Leg training is what makes you the man. Remember what Dorian said about those who trains leg seriously?
When that leg training day comes and you feel like you are bored with routine it means it is time for changes!
You want quads bigger? It is time to SHOCK THEM!
If you want a routine to shock your legs here it is, the one I did yesterday.
Start by warming up then begin doing leg exercises this way:
1. Leg Extensions Drop Sets: 5 sets at 10 reps each. A little explanation on how I did it. Put 100kg there and do 10 reps, immediately drop weight to 80kgs and do 10 reps more, drop to 65 and 10 reps more, drop to 50 and do 10 reps more, drop to 30 and 10 reps more. 2 minutes rest and do this again 3 times more.
2. Standing lunges + Leg Press 2 sets of each with medium weight for 20 reps each set. 1 minute between sets.
3. Lying Leg Curls 4 sets at 20 reps, 30 seconds rest between sets.
4. Standing calf raises + seated calf raises – medium weight 20 reps and 1 minute rest between sets.
Now you can go home and rest. Next day come here and write in comments how do you feel.

Discuss this on bodybuilding forum

==================
We do not promote the use of anabolic steroids without a doctor's prescription. The information we share is for entertainment purposes only.
THIS IS NOT MEDICAL, LEGAL OR ANY OTHER TYPE OF ADVICE. SIDE EFFECTS ARE UNKNOWN SO THEREFORE DEATH AND SERIOUS BODILY INJURY MAY OCCUR. ONLY USE DRUGS, SUPPLEMENTS, OR EXERCISE UNDER YOUR DOCTORS DIRECTION.
==================
Post Footer automatically generated by Add Post Footer Plugin for wordpress.
Tweet