2009 Team Universe Results
22 September 2009
One Comment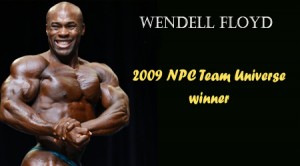 Probably many of you waited for this contest. So here are results. You can discuss its results on forum.
Overall
1. Wendell Floyd
Heavyweight
1. Shiloe Steinmetz
2. Donovan Strong
3. David Coleman
4. Amechia Chinweze
5. Jeff Beckham
Chadwick Austin
James Bivens
Robert Brown
Chris Cosich
Domine DAgustino
Erick Seng
Marlon Hospedales
Glenn Ubelhor
Light Heavyweight
1. Wendell Floyd
2. Kiyoshi Moody
3. Sheldon Hall
4. Anderson Moore
5. Robert Miller
Edward Brown
Matthew Cena
Ron Harris
Kyle Kroll
Jermaine Morgan
Clyde Norris
Ryan Workman
Jerome Cheatham
Middleweight
1. Alan Bailey
2. Jeff Rodriguez
3. R.D. Caldwell
4. Goss Destil
5. Chris MacKenzie
Moses Ajala
Jesse Amblo
Christopher Bohony
Joe DeAscanis
Adam Napoli
Chris Schranck
Swan Edmund
Welterweight
1. Dave Goodin
2. Bill Moschelle
3. Tony Roberts
4. Ivor Brown
5. Dale Pierce
6. Eric Holmes
Lightweight
1. Kelly Pettiford
2. Joe DeMarco
3. George Gibson
4. Johnny Kioskerides
5. Kodi Davis
Bantamweight
1. Samuel Lewis
2. Adam Weinberg
3. Albert LaLonde
4. Paul Coats
5. Michael Echevarria
William DiPierro
Dale Morshige
Wayland Rios

Discuss this on bodybuilding forum

==================
We do not promote the use of anabolic steroids without a doctor's prescription. The information we share is for entertainment purposes only.
THIS IS NOT MEDICAL, LEGAL OR ANY OTHER TYPE OF ADVICE. SIDE EFFECTS ARE UNKNOWN SO THEREFORE DEATH AND SERIOUS BODILY INJURY MAY OCCUR. ONLY USE DRUGS, SUPPLEMENTS, OR EXERCISE UNDER YOUR DOCTORS DIRECTION.
==================
Post Footer automatically generated by Add Post Footer Plugin for wordpress.
Tweet