Bodybuilding is always a competition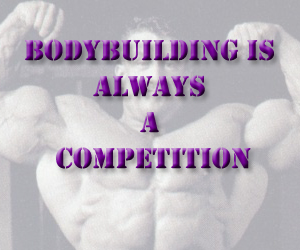 By Doctor Prod
Learn why bodybuilding is always a contest. Get to know more about this lifestyle and what it brings you.
Did you ever think about participating in a bodybuilding contest? What was your decision? Did you think you are not better/bigger enough? Or are you not ready? Or you are just training for yourself? May be you don't want to stay on a diet? Any reason you would choose I must say that you are already competing. Yes, you've read it correct, you are already competing and that is the most important contest for you. Why will you ask? Because, first contestant is you.
You are competing with that person you were before you went to the gym. You have to compete daily with laziness, with desire to eat more pizza's, with desire to eat at McDonald's instead of preparing some good food and the list goes on, it may be any other thing which stops you from obtaining that beautiful body and having a healthy life-style. And no one can "fight" with these barriers except you.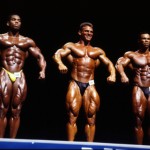 Every missed workout, every additional calories, every incomplete set may be a step back.
You have to be very disciplined and controlled if you are seriously about bodybuilding which gives you too many benefits to ignore them, but that is a subject for another article.
Train hard, be disciplined and respect people.
Good luck in your bodybuilding journey.
© MusclesProd.Com 2010. You may copy and use this article only with source indication (www.musclesprod.com)
About the Author: Doctor Prod is a fictional character created by MusclesProd.Com Team. A Team made of bodybuilders with experience in competition.


Discuss this on bodybuilding forum

==================
We do not promote the use of anabolic steroids without a doctor's prescription. The information we share is for entertainment purposes only.
THIS IS NOT MEDICAL, LEGAL OR ANY OTHER TYPE OF ADVICE. SIDE EFFECTS ARE UNKNOWN SO THEREFORE DEATH AND SERIOUS BODILY INJURY MAY OCCUR. ONLY USE DRUGS, SUPPLEMENTS, OR EXERCISE UNDER YOUR DOCTORS DIRECTION.
==================
Post Footer automatically generated by Add Post Footer Plugin for wordpress.
Tweet