RAPID FAT LOSS GUIDE
19 November 2008
No Comment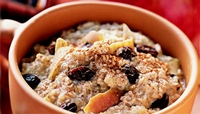 A 10-point plan for safe and rapid fat loss.
Written by Chris Aceto
Our resident bodybuilding nutrition expert, Chris Aceto, gave us these easy-to-follow tips for ripping up.
1)DOUBLE YOUR CARBS
Fix daily carb intake at two grams and protein intake at one gram per pound of bodyweight split over six small meals. Count only the protein from your main sources and disregard inconsequential protein levels in vegetables and other carbs. Your best carb choices are potatoes, rice, pasta, bread, Cream of Wheat and fruit.
2) CARDIO AT 4 x 40
Do 40 minutes of high-intensity cardio four times a week. That will burn 1600 calories, the equivalent of working off half a pound of fat per week. For fat-burning, shoot for aerobic activity at 70% of your maximum heart rate.
3) EVALUATE YOUR PROGRESS
Since your goal is to get rid of ½ to 1½ pounds weekly, after the first few weeks, here's how to decide whether to change variables.
* If you are reaching the goal, stay with the plan.
* If you are not losing enough weight, decrease daily carbs to 1½ grams per pound of bodyweight and add another cardio session to total five per week.
* If you are losing too much weight, increase your carbs to three grams per pound of bodyweight every third day. This will help you retain muscle mass as you shred.
4) LOWER GLYCEMIC INDEX TO SHAKE PLATEAUS
All diets are prone to decrease in efficiency after a while, where fat loss grinds to a halt. The fat will continue to disperse if you increase your intake of low-glycemic carbs, except after a workout, when you should continue to eat higher glycemic index carbs to replenish glycogen stores. Low glycemic carbs (oatmeal, beans, yams, buckwheat noodles and pancakes, cherries, peaches) release less insulin than other carbs. Lower insulin levels with a reduced caloric intake should stimulate continued fat loss.
5) CUT CARBS AT NIGHT
If you are not losing fat at the expected rate, remove all carbs from your last meal. You can reallocate half the carbs you would normally take in at that meal to your earlier meals. The other half should be eaten at the posttraining meal, when they are less likely to be stored as fat.
6) INCREASE FIBER
If you are still struggling to lose weight after the steps above, cut the intake of complex carbs (yams, potatoes) in half at all meals except the one after training and substitute fibrous carbs (broccoli, green beans, asparagus, cucumbers and salad greens).
7) PROTEIN UPRISING
Increase protein by 15% (1.15 grams per pound of bodyweight daily). This will counteract possible muscle-mass loss from the reduced starchy carbs.
8) TAKE A BREAK
Dieting too long will slow down your metabolism. Manuever past this pitfall by increasing carbs to offseason levels for three to five days every two to three weeks.
9) JUST IN…CASEIN
Casein is superior to whey when dieting. Use low-fat casein protein for two of the day's meals to prevent muscle loss and reduce carbs.
10) SUPPLEMENTAL ADVICE
Four to eight grams of branched-chain amino acids before and after workouts will help to offset the burning of muscle. 200 milligrams of caffeine per day will boost metabolism. Since fluid within muscles drops when carbs are reduced, take 15 grams of glutamine each day to pull water into muscle cells.
Source: FLEX

Discuss this on bodybuilding forum

==================
We do not promote the use of anabolic steroids without a doctor's prescription. The information we share is for entertainment purposes only.
THIS IS NOT MEDICAL, LEGAL OR ANY OTHER TYPE OF ADVICE. SIDE EFFECTS ARE UNKNOWN SO THEREFORE DEATH AND SERIOUS BODILY INJURY MAY OCCUR. ONLY USE DRUGS, SUPPLEMENTS, OR EXERCISE UNDER YOUR DOCTORS DIRECTION.
==================
Post Footer automatically generated by Add Post Footer Plugin for wordpress.
Tweet