Blueberry Protein Pancakes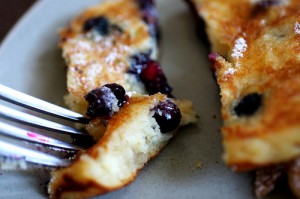 What you'll need:
1/2 cup nonfat cottage cheese
6 egg whites
1 whole egg
1/2 cup whole oats (not instant)
1 teaspoon vanilla extract
1 teaspoon cinnamon
1/2 cup blueberries (to be added later)

Do lunges all the way into the kitchen to help bring out the hamstring and glute tie ins! Once you arrive, drop all ingredients above (except the blueberries) into a blender. Blend until smooth. Spray a small amount of PAM cooking spray onto a large nonstick pan. Cook on medium heat and once it's at full temperature, pour pancake mixture into the pan. Wait for bubbles to come through and the edges to brown, then turn over and cook other side. Top with blue berries.
TIP 1: Do NOT pour mixture on pan until the pan is very hot.
TIP 2: If you need syrup, you're not hardcore enough! Just kidding. Try Maple Grove Sugar Free Syrup. One of the few sugar-free syrups that actually taste like maple syrup.
Source: http://bodybuildingcookbook.com/

Discuss this on bodybuilding forum
Post Footer automatically generated by Add Post Footer Plugin for wordpress.
Tweet