A few tips to get succes in bodybuilding
15 August 2009
No Comment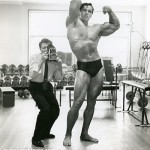 By MusclesProd
There are many articles regarding succes in bodybuilding and each one is important however there are some basic principles which needs to be preserved during all your bodybuilding career if you want to have succes.
1. Train correct.
Correc training is the essential. You can train many years but without results. So take your time to join a forum where you can learn a lot of new useful things. For examplea good forum is www.hypermuscles.com.
2. Train hard.
Not adding weight each training is a big mistake. Because muscles will not grow as they are not stimulated, so train harder and harder but do not forget about rest.
3. Train consistent.
Do not miss any training day. It does not matter if it rains or if it cold outside. If you have a training day then do not miss it.
4. Eat correct.
Correct nutrition is another part of the succes in bodybuilding. So take your time and read as much as possible on this.
5. Eat enough.
Eat 5-6 times per day with small portions. 4 times it must be food and 2 times protein shakes
6. Sleep at least 8 hours.
Go to sleep at 22.00 if you want a good hormonal balance and good muscles growth and rest.
Just a few tips for beginners which will help them to begin with the right way.
Following these simple steps will increase the % of your succes.
Train hard and be consistent.
For more advices on training and bodybuiling please go to hypermuscles.com forum and hypermuscles blog.
If you want to have succes in bodybuilding you must remember all the principles and it would be a good idea to print them out and put somewhere where you will see them always.

Discuss this on bodybuilding forum

==================
We do not promote the use of anabolic steroids without a doctor's prescription. The information we share is for entertainment purposes only.
THIS IS NOT MEDICAL, LEGAL OR ANY OTHER TYPE OF ADVICE. SIDE EFFECTS ARE UNKNOWN SO THEREFORE DEATH AND SERIOUS BODILY INJURY MAY OCCUR. ONLY USE DRUGS, SUPPLEMENTS, OR EXERCISE UNDER YOUR DOCTORS DIRECTION.
==================
Post Footer automatically generated by Add Post Footer Plugin for wordpress.
Tweet