THE RETURN OF THE GIANT KILLER – part two.
27 November 2009
One Comment
August, 2001
THE RETURN OF THE GIANT KILLER – part two
by Jason Meuller
Jason Meuller: So what's going to happen if Danny Padilla competes and does well against guys twenty-five years younger than he is?
Danny Padilla: I suppose I'll have to reveal the secrets behind my comeback and longevity in the sport. When you look at me, you cannot guess my age, I have good skin texture, and I really don't feel any different in the gym now than I did 25 years ago. So obviously I'm doing something right, you know? I'll tell you a funny story. During my recent preparation for the Masters Olympia, I found that someone had gone through my gym bag and attempted to pry open my locker from the top. I was wondering why the hell someone would want to do this. I was approached by the owner of the gym. He told me that word around the gym was that Arnold had sent me some secret youth formula from Germany. There were actually guys in the gym who were convinced that I was on this magic stuff. My bag was searched and my locker broken into in an attempt to discover the fountain of youth.
JM: That's hilarious, although it doesn't surprise me that people might think you've got some secret elixer up your sleeve. For God's sake man, look at you! Can we talk a bit about how you got started in bodybuilding?
DP: I got started in bodybuilding at the age of seven. I had an older brother and a cousin who were both champion wrestlers in high school. They used to workout with some old York barbells in the basement. I would watch them train and slowly I got involved with it as well. I picked up the weights and it was like a drug. I liked what I felt and so I kept going with it.
JM: Is your whole family like you, genetically gifted to put on muscle?
DP: I have two brothers that could have easily been pros; they just didn't like the sport. I also have a younger brother who I trained for 3 months, in that time he gained close to 30 pounds of muscle – drug free, of course. He was just gifted like that. Everyone was afraid of him; they were asking me, "What are you going to do with this guy?" He eventually told me that bodybuilding just wasn't for him, he went to college and became a school teacher and is also involved in music. In my family, I guess you could say that all the men are genetically gifted in this way.
JM: When you were coming up in the sport, who were your idols? What bodybuilders did you look to for inspiration?
DP: Back in those days you had Chuck Sipes, Chet Yorton, Bill Pearl, Sergio Oliva, Arnold Schwarzenegger, Dave Draper, Larry Scott, Harold Poole, Freddy Ortiz…those were the "guys". They were the champions during that time period.
JM: So what was it like for you, to look up to these guys and then so quickly find yourself standing on stage next to many of them?
DP: Well, it was kind of freaky, I started competing very early. At the age of 18 I entered my first local bodybuilding show and won it. It was only a matter of a few years before I was standing on a pro contest stage in the same lineup with some of those guys that I had been reading about in the magazines during high school.
JM: So at that time you entered that first local show, you'd been lifting weight for about 11 years?
DP: Yes, about 11 years on and off. I can't say that I really knew what I was doing. I wasn't focusing on bodybuilding; I hadn't even known what bodybuilding really was all about for most of that time. I had just been lifting for strength. I was doing basic moves with barbells and chin-ups and dips using the water pipes that ran through the basement. I came from a big family that had very little money; so joining a real gym was impossible. I developed a pretty good physique just using that home equipment. I was a good high school wrestler, then I became involved in gymnastics, then I became a bodybuilder. I competed in the AAU for many years and did fairly well but they used to say to me "Danny, you've got this incredible physique, you've got the most beautiful physique we've seen as far as symmetry and balance, but you're just too short, you're never going to make it." It was then that I decided to compete in the IFBB. It was 1975. In Rochester, at that time, nobody really understood what trying to be a competitive bodybuilder was all about. People were asking me what I was training for. I'd tell them that I was getting ready for the Mr. USA, which was going to be held down in New York City at Madison Square Garden. This was a show with the "big league" guys of the time, Robby Robinson, Roger Callard, Denny Gable, Harold Poole and Anibal Lopez. So I walked in to Madison Square Garden, of course nobody knew who I was. The East Coast guys hated the West Coast guys back then (sort of like the rappers today). I didn't know about this whole coastal rivalry thing. Being a guy from New York at a New york show, I guess you could say that I was in right place at the right time. This was my first major show, and boom, I won the Mr. USA. It freaked everybody out, including me.
JM: And yet after that win, it seems like you've had a lot of bad luck surrounding your career in the sport. Why do you think that is?
DP: You know, as I progressed in the bodybuilding world and had a chance to experience the so-called "pro bodybuilding lifestyle", I have to say I was mostly disappointed. I didn't think the athletes were treated properly. In my case, I had to pay my own way through all of my competitive career. My dad and I owned a grocery store. My whole life I was both working full-time and training. I'd get to a show and I'd see pros that had no money to get themselves home. They'd basically be waiting for some "big gun" to give them their plane ticket. Then there would be some stipulation about not giving them their ticket unless they agreed to do a photo shoot for no pay. I was disgusted with this. I'm thinking this is the way a professional athlete is treated? There's something very wrong with this. In the case that I just mentioned, they all had no choice but to do these photo shoots to get their airfare paid for. The photos were then used in magazines. And, let's just say, that those magazines are not non-profit ventures. Certain individuals became wealthy off of this system. This was how the game was played. I went next to compete in the Mr. America in California and won it. My friend Larry Baker was with me at the America, I also met Ken Waller at that time and we became good friends. I was taking a shower after my win and they came and told me that I had to get out of the shower because they needed another "look" at my physique. Apparently Roger Callard wasn't happy at having been defeated by me. I had won the lightweight division first and then I had to defeat the heavyweight winner, who was Pete Grymkowski, to take the overall title. They couldn't believe that a guy who was 5'2" and whose eyes weren't blue had beaten them. Roger was having a heart attack. So, somehow he got his "people" to convince the judges to make us pose yet again. Here I was, still wet from the shower, I had to put on my posing trunks and go out and pose again. Of course, the decision stood, and I won the title again, but that wouldn't have happened to another bodybuilder. It was always rough for me.
JM: You were in Pumping Iron, albeit briefly. Why don't you tell me the true story of what happened with in the movie?
DP: That's another heartbreaker for me. I remember flying out to California. They had us compete in New York for spots on the Universe Team. I won the lightweight spot, Robby took the Middleweight, and Ken Waller the heavyweight. So we were, by far, the best American bodybuilders in the country and we were going to represent our country at the Mr. Universe contest. Those of us who were not living on the West Coast were flown out to California. We all trained at the original Gold's Gym. I got to Gold's and I saw Arnold and Ed Corney, Franco and Frank Zane, Ken Waller and Robby Robinson. All the great guys were there because they were filming Pumping Iron. George Butler filmed all of us eating, training and hanging out. It was going to be the first movie ever made that documented the sport. They filmed me training for three months, the IFBB paid all of our expenses and then they flew us to South Africa. They continued to film us there in Pretoria. They put us up in a hotel and covered our expenses. We were excited because we believed that it was going to be the first time in history that the United States was going to take all three divisions (light, middleweight, and heavy) at the Universe. I was still doing all these photos by the pool, being filmed by Butler and his crew and watching Arnold psych out Lou. That stuff you've seen in the film, I was watching it happen in front of my eyes. Arnold's telling Ferrigno, "Louie, you look pretty good but maybe next year you'll be ready for the show."
JM: And this is actually working on Lou?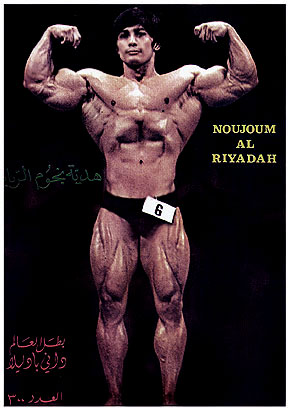 DP: It's tearing the poor guy apart. Arnold tells Lou and his family that he had called his mother the night before and told her that he had already won the show. Louie's mom asks Arnold, "How can you do that, the show's not until tomorrow?" Arnold says, "If Louie's the man to beat, I have no problems. Louie looks good but his timing is off. Maybe he'll get it down next year." Arnold was just demoralizing this poor kid. He was really breaking him down. I also watched Ken Waller demolish poor Mike Katz. Little did I know, the morning of the show, I was going to be the one to be REALLY demoralized. I finished eating breakfast. We had fifteen minutes to wait before we got on the bus to take us over to the show. It was then that I was told that I was "bumped". They had decided to have two heavyweights, one middleweight, and no lightweight. I couldn't understand why I couldn't compete. Apparently what had happened was that Waller and Katz were going to pose in front of the American coach, Ed Jubinville. Then he was going to decide which one of them would represent the United States in the heavyweight division. Mike Katz was Jubinville's protégé. Ed absolutely loved the guy. I guess the South African government also liked Mike Katz. It was decided that since I was a young guy, at the beginning of my career, I could always come back next year, so I was bumped. It absolutely broke my heart. I had already told my friends and family that I would easily win the lightweight division. I went all the way to South Africa and was told, with fifteen minutes of warning, that I couldn't compete for the United States.
I wasn't just devastated, I was also pissed off. I start thinking that I should just compete for another team. The only team that didn't have a lightweight competitor was Portugal. I asked the Portuguese coach if he would you like to have me on his team. He thought I was joking. I told him, "No it's not a joke. I've come all the way to South Africa and now the United States team has dumped me." At the time Oscar State was running most of the show for the IFBB. I went to him and said, "My mom was born in Spain, my dad was born in Puerto Rico, somewhere in the middle we had to have crossed Portugal." Oscar laughed and, I guess figuring it couldn't possibly hurt, agreed to let me compete on Team Portugal. I went on stage with the Portuguese banner and no one could believe what the hell was going on. They all started laughing, thinking nothing about it until It began to look like I was going to take the title. At that point Belgium and England began to protest. It was down to the three of us. Before we could finish, because of the British and Belgian protests, the IFBB had a meeting, and I was thrown out yet again.
JM: Obviously, you wound up playing a MUCH diminished role in the Pumping Iron movie because of all of this nonsense.
DP: Definitely. When Pumping Iron was shot, I was in a lot of the footage. They filmed me training at Gold's, in South Africa, on the bus, etc. . . . I was supposed to be part of the group that was focused on in the movie. I was edited out because I made the IFBB look stupid. How could they show me competing for Portugal after having paid my way to South Africa? Of course, because of what the IFBB did to me; had it been included in the final edit of the movie, it would have portrayed them in a bad light. Nobody wanted to take public responsibility for the abuse I took. I was bumped from the show after months of preparation. If I had any kind of common sense, I probably would have hired an attorney and sued somebody. All you see of me in the final film is a very short segment when Arnold approached me to ask me if I was OK after he heard about what had happened. I told him, "I'm OK, let's just enjoy the show." That's when we started talking about Ed Corney and Franco from the audience during prejudging. I make that comment about Franco, "My God, his lats are huge, he could fly with them." To this day, when people hear what happened over there in South Africa, they respond with disbelief. I always counter with, "Why would I be sitting in the theater in South Africa talking to Arnold in that scene in Pumping Iron if my account of the events is untrue?" Maybe they think that I flew over there just to watch these guys do lat spreads.

Discuss this on bodybuilding forum

==================
We do not promote the use of anabolic steroids without a doctor's prescription. The information we share is for entertainment purposes only.
THIS IS NOT MEDICAL, LEGAL OR ANY OTHER TYPE OF ADVICE. SIDE EFFECTS ARE UNKNOWN SO THEREFORE DEATH AND SERIOUS BODILY INJURY MAY OCCUR. ONLY USE DRUGS, SUPPLEMENTS, OR EXERCISE UNDER YOUR DOCTORS DIRECTION.
==================
Post Footer automatically generated by Add Post Footer Plugin for wordpress.
Tweet