THE RETURN OF THE GIANT KILLER – part three.
29 November 2009
One Comment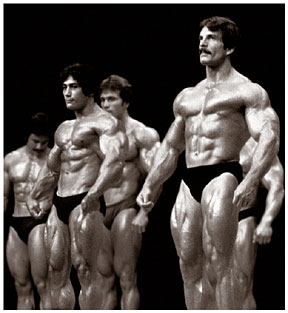 August, 2001
THE RETURN OF THE GIANT KILLER – part three
by Jason Meuller
Jason Meuller: So, did the treatment that you received at the hands of the IFBB, on more than one occasion, have anything to do with you signing on with the WBF?
Danny Padilla: The IFBB is a great organization, but let's face it, America's about big. Bodybuilding is about the being the biggest, tallest, strongest guy in the world . . . and for some reason, the powers that be thought that a guy like me just couldn't sell because of my height. I don't understand why that is. I certainly don't believe it's true. I certainly can't say that I had it the worst in the IFBB. Other athletes were treated far worse than I was. But I always had my "problems" with the organization. When I competed in the Night of Champions all they ever talked about is achieving perfect scores. I scored a perfect score in New York and I still lost. Of course, the explanation was that I didn't pose hard enough, that my heart wasn't in it.
JM: What show was this?
DP: It either the 1978 or 1979 Night Of Champions. Among the competitors were Robby Robinson, Mike Mentzer, and me. It was in all the magazines. We were the three top guns at the time. I beat Mike. He took third. If Mike Mentzer ever scored a perfect score, the whole world would know about it. The same goes for when either Casey or Robby scored that way. I scored a perfect score in New York and I lost. They told me that after three or four pose downs they thought that I kind of gave up, so they awarded the show to Robby.
JM: Wait a minute. You're telling me that you have a perfect score; it's obvious to the judges that numerically you're the winner, yet they keep calling the three of you out for pose downs? Why?
DP: Why? Who knows? I have no answer for that. Maybe Robby was expected to win the show and when I showed up in better shape I threw a monkey wrench into their plans. The most ironic part of that whole show was that we had an athletes meeting in the morning where we were told that if anyone had a high score, if you were scored 290, 295, what have you, that was it, you'd be the winner of the show. They also said that the night show was just for the fans and the scoring at the prejudging would decide the winner. We we're told to give it our all for the night show, to please the audience of course, but that the scores from prejudging were final. Well, at prejudging, I had 300 and Robby had 297. Danny Padilla loses. You explain it to me, because I don't understand.
JM: So in 1990, you get a phone call from Vince McMahon, right?
DP: In 1990, I decided to compete in the IFBB after an eight year layoff. The only reason why I was gone that long was because of an experience that I had at the Night of Champions in 1982. I arrived in New York in tremendous shape. Immediately before the competitors meeting I went to go eat. Coming back from eating, I was about two minutes late for the meeting and they locked the doors. I said to Demilia, "Wayne, what's up with this"? He told me about how they had a new rule and that rules cannot be bent for anyone, including me. I continued to ask him to allow me to compete, he told me that he'd have to put it to a vote with my fellow competitors.
Now I ask you, how in the world do you leave a decision like that up to your fellow competitors? I looked great, they're not stupid, if I won I'd be taking a paycheck away from them. So naturally, they voted me out. After being eliminated, I quit bodybuilding for 8 years.
In 1990, I decided to make a comeback. I competed in the Niagara Falls show and took second to Eddie Robinson.
JM: At what age?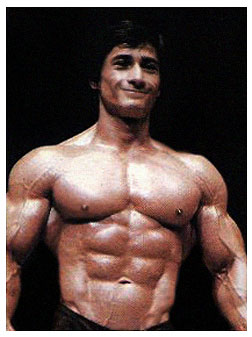 DP: At 40 years of age. Then I went to the Night of Champions that same year. I lost to Dorian Yates and Mohammed Benaziza. Two great champions defeated me, but I felt, that night, I really beat them both. I felt I had the best overall physique, I was muscular, I was cut, and I was more complete than either Dorian and Momo were. You have to understand, Dorian was definitely ripped but he was much lighter. He was just starting to make the rounds. They had just flown him in from Europe and were going to keep him in the States to prepare him for the Olympia. Momo Benaziza looked tremendous and was rock hard, but he had definite flaws. But believe me, I was still happy to take third behind the two of them . . . even if I truly believed that I should have won the show. So I then went to Europe and did seven Grand Prix shows and place in the top five in six of them. It was immediately after this that I was approached by Vince McMahon and offered a job in the newly formed WBF. Tom Platz was involved; there was some serious money behind the project. I knew deep down inside that the WBF wasn't going to be successful, I mean, how long could it possibly last. But I felt bodybuilding and the IFBB needed a jolt of some sort, some kind of competition. I figured if anyone could do it, it would be Vince McMahon. They paid me a hefty little paycheck and I joined. Hey, money talks, bullshit walks.
I joined the WBF and all hell broke loose. Everybody was very disappointed and upset. I think the IFBB had aspirations for me because I had done so well. The IFBB couldn't believe that I was 40 years old and was able to compete with those guys that I done so well against during the 1990 shows.
JM: Didn't this prompt a personal phone call from Joe Weider?
DP: But, of course! Joe Weider wanted to know how I could do this to him. He told me not to join the WBF because McMahon was a "queer". He said that Vince would destroy my name and that I shouldn't be a traitor to Weider and the IFBB. But of course like I said, money talks. Joe never made me a counteroffer to stay with the IFBB. They simply told me not to go to the WBF and made a lot of empty promises. Considering my previous experience with the IFBB, could you blame me for not believing their bullshit? I went to where the money was, which, at that moment, was the WBF.
JM: So what you're telling me is that despite the IFBB's claims to the contrary, they knew full well that athletes were being approached by the WBF and made no counteroffers to keep athletes from leaving?
DP: They made no counteroffers whatsoever. I suppose the IFBB felt they could afford to lose a few athletes. They got Eddie Robinson and Gary Strydom, both of whom got really great contracts. But other than that, with athletes like Jim Quinn and Mike Quinn, they really weren't taking the top guns of the bodybuilding world. We still were hoping that we could start something at the WBF. The good thing that came out of the whole episode is that a lot of guys in the IFBB started getting contracts. Suddenly guys who couldn't win Mr. Lake Ontario were at least getting a small contract. So, in that sense, the WBF was worthwhile. The competition that the WBF presented brought about the beginning of contracts for athletes in the IFBB.
JM: So what happened to you after the WBF fell apart, did you want to go back to the IFBB?
DP: Well, I just retired to be honest with you. I figured it was over; I'm 42 years old, where am I going to go? But what happened to the guys that came back to the IFBB is that they had to endure a lot of bullshit, like theatrical presentations of graveyards and being raised from the dead . . . they also had to pay stiff fines. I refused to do any of that. I was eventually approached by the IFBB because they were having the first Masters Olympia and they wanted me to be a part of it. They told me that if I agreed to come back and compete, all would be forgiven and that I wouldn't have to pay any fines. So I came right back to the IFBB . . . and, really, it was no big deal.
JM: So the Masters Olympia was your first show back?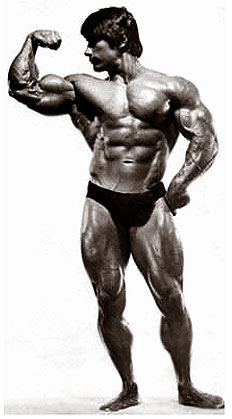 DP: Yes, and I got whooped!! (laughing) I think I got so excited that I over trained.
JM: Danny, it seems to me that the Masters Olympia competitors are treated very poorly. Why don't you think it is that someone like Arnold Schwarzenegger who has millions of dollars doesn't get behind the show and promote it properly?
DP: I think it's a sad day when someone like Arnold doesn't take the show because he would probably promote it better than anyone out there. It's obvious that the IFBB doesn't really care about the Masters Olympia anymore. The first Masters Olympia in Atlanta was a beautiful show. Wayne Demilia, along with the promoters, did a fantastic job. But things have definitely shifted since then. Maybe the IFBB can't get sponsors to support the show or they can't get fans interested enough to buy tickets. I think there's also the fear in the IFBB that if the prize money got too good, some of these old-timers will train themselves to death. We've certainly already seen that with some of the younger bodybuilders. But the contest reminds me of the old AAU shows where we'd line up fifty guys on stage and we'd all have to change in the bathroom. The best thing about the Masters Olympia is the dinner after, everything else about the show is pretty second rate.
JM: If you do decide to do the Masters Olympia next year, who do you see as your main competition?
DP: Well, looking at this year's competition, Hnatyschak came in great shape, the guy who took second place apparently weighed in at a shredded 240 pounds, and, of course, you have the perennial winner, Vince Taylor, to contend with.
JM: What about Robby?
DP: Robby and I are going to bump heads for the fifty and over division. I think he got fourth overall and probably took the fifty and over division, so he and I are definitely going to bump heads. After I whoop him, I'm going to take on the rest of the guys in the show, that's if they let me compete. They might be scared of me.
JM: There seems to be only one pro bodybuilder who's very short that's doing well right now, and that's Lee Priest. I believe Lee is 5′ 4″ and you're 5′ 2″. How do you feel you'd fare against a guy like Lee Priest if you were able to get back into shape?
DP: I tell you what; I'd love to compete next to a guy like Lee Priest just for comparison. But I'd have to be in ungodly, phenomenal, freakish shape to compete against this kid. As great as he looks, I still believe he gets screwed in every show he enters. I don't know if he's not talking to the right people, or if he's insulted somebody, because he's got such a beautiful physique and should be placing higher. I would love to get myself in the best shape of my life and go head to head with Lee Priest. If he beats me, I don't care. He's a short guy and he looks great.
JM: Do you still believe it's a situation in the IFBB that a short bodybuilder cannot get his just rewards simply because he's short?
DP: Like I said earlier, I definitely believe that Americans love big things. The bigger the better, and you see that in every sport. Bodybuilding is following that. I guess Mr. Olympia now has to be 6′ 8″ and 960 lbs. Lee Priest, for example, is just not as big and as ugly as some of these other guys. Don't get me wrong, he's huge, he's a giant for his height, but I guess he's just not ugly enough. The problem is that he's just got to get a bit more ugly.
JM: Danny I appreciate your time and have really enjoyed this interview. Are we going to be seeing more of The Giant Killer?
DP: Hey, I'm 50 years old. I'd have to be crazy to think about competing again. Then again, most people have always thought I was crazy.

Discuss this on bodybuilding forum

==================
We do not promote the use of anabolic steroids without a doctor's prescription. The information we share is for entertainment purposes only.
THIS IS NOT MEDICAL, LEGAL OR ANY OTHER TYPE OF ADVICE. SIDE EFFECTS ARE UNKNOWN SO THEREFORE DEATH AND SERIOUS BODILY INJURY MAY OCCUR. ONLY USE DRUGS, SUPPLEMENTS, OR EXERCISE UNDER YOUR DOCTORS DIRECTION.
==================
Post Footer automatically generated by Add Post Footer Plugin for wordpress.
Tweet