Interview with Dennis James regarding Tampa PRO.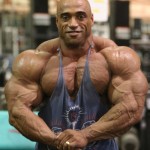 FLEXONLINE.COM
Dennis "The Menace" James wants a win – and he wants it bad. James, the odds-on favorite at this weekend's 2009 IFBB Pro Bodybuilding Weekly Championships, August 6-7 at the Tampa Bay Performing Arts Center in Tampa, Florida, is determined to improve on his runner-up finish here last year. If he's successful, it will be his first pro victory on U.S. soil in his 11 year pro career. James', who's last win came at the 2001 IFBB Grand Prix Hungary, is coming off a strong second place finish at the 2009 IFBB New York Pro in May. Here's what he had to say the night before his assault on the 2009 Tampa Pro.
GOOD TIMING
"I feel great. I'm ready. The good thing is that I'm usually contest-ready a few weeks out from a show and then have to try to hold onto that conditioning, but this time I'm timing it exactly for Saturday. I won't be ready today or tomorrow or Friday. I will be ready on Saturday.
CARDIO LIGHT
"In the past I didn't know how to time it to not be ready so early. Now that I'm working with George [Farah] I've got the timing down perfectly. In fact, I'm only do 30 minutes a day of cardio as opposed to 2 hours. Actually, for the past ten days it's only been 20 minutes a day. I started doing my cardio 11 weeks out and I wasn't far out of shape to begin with anyway.
HOLDING STEADY
"As for carbs, I got down to as low as 60-80 grams a day, but now I'm back up to around 350. So it's not like I'm carb-loading. I'm just eating my regular diet with rice and everything. Yesterday I was 255. This morning I was 254. My bodyweight is moving down just slightly each day, just getting closer to exactly where I need to be.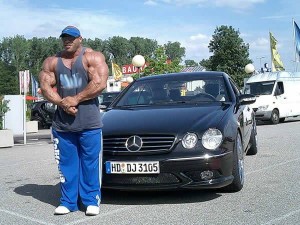 GETTING A LEG UP
"We cut back on legs three weeks ago so we could bring out the separation onstage. That means just doing extensions and curls every three days. It's working, too.
TAMPA TITLE?
"I'm going to be coming in fuller and harder than you saw in New York. I only prepped five weeks for that show. With 11 weeks I've had time to do it right, so I'm going to be a little heavier too. I'm going there to win, only. That's my only goal. I'm training for #1 and nothing else."
Source: FLEX

Discuss this on bodybuilding forum

==================
We do not promote the use of anabolic steroids without a doctor's prescription. The information we share is for entertainment purposes only.
THIS IS NOT MEDICAL, LEGAL OR ANY OTHER TYPE OF ADVICE. SIDE EFFECTS ARE UNKNOWN SO THEREFORE DEATH AND SERIOUS BODILY INJURY MAY OCCUR. ONLY USE DRUGS, SUPPLEMENTS, OR EXERCISE UNDER YOUR DOCTORS DIRECTION.
==================
Post Footer automatically generated by Add Post Footer Plugin for wordpress.
Tweet